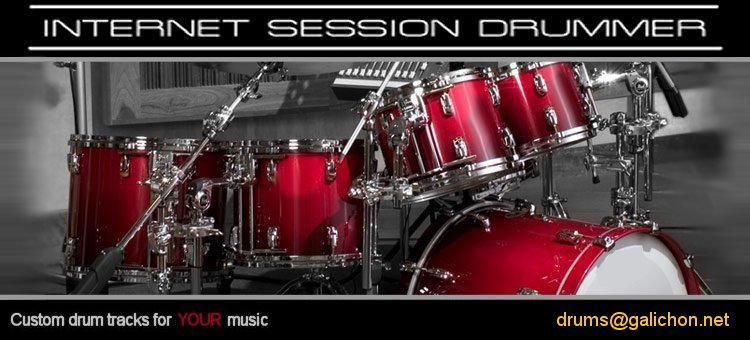 MUSICIANS and RECORDING ARTISTS -

Is the drum machine ruining your otherwise stellar mix? Are your drum tracks sounding fake and uninspired? There's no reason to be frustrated with artificial drums anymore.

Now you can afford BIG DRUM SOUNDS without having to pay big drummer prices. There is no substitute for real drums played by a real pocket drummer who plays with feel.

If you want to shop your music to MAJOR LABELS, you need to make a lasting impression with your demos. Make your music stand out above the rest by getting real live drum tracks recorded by a real session drummer. I can help as your personal internet session drummer.

YOU GET:

QUALIFIED SESSION DRUMMING
3-time gold medalist in drum set technique. Have personally studied with Joe Morello (Dave Brubeck) and Simon Kirke (Bad Company). LISTEN TO AN EXAMPLE


QUICK TURNAROUND
my drum room is always miked and ready to go! Just send me a scratch track (.wav, .mp3, etc.) and Iíll do the rest! If you donít have a scratch track, just send me the tempo and a description of your song's structure


FULL CONTROL of your production
8 separate drum tracks are provided for every session


HIGH PERFORMANCE
24-bit/96kHz resolution available


COMATIBILITY (PC, Mac, any digital audio workstation)
8 drum tracks are provided to you as lossless .wav files. Import them into PRO TOOLS, CUBASE, SONAR or any other Digital Audio Workstation on any platform.


TREATED LIKE A PRO
all musicians are welcomed and treated alike, from new artists to seasoned veterans


BACKED by PRO GEAR
endorsed by Saluda Cymbals and Vic Firth. Top-of-the-line reinforced maple shells are used to get stellar timbre and tone


NODS from DRUM LEGENDS
see what Tommy Aldridge, Bill Bruford, Jonathan Mover, Simon Kirke, and Joe Morello have said about my work as a drummer live and in the studio


CUSTOM DRUM MIKING TECHNIQUES
10 high-quality mics are used simultaneously to capture a complete soundscape. My arsenal includes several of each of the following: AKG D112, C418, C419, Shure SM57, MXL 603S and more!


ALL STYLES covered
got a great tune? Rock? Metal? Jazz? Progressive? Alternative? Hip Hop? Country? Latin? You name it, I can help!


PRODUCTION FLEXIBILITY
whether you like polished, modern, radio-friendly drums or the live & natural approach, you can mix the drum tracks I provide to get just the right balance!


PRODUCTION and MASTERING available
for those who prefer, I can also provide a final stereo mix of the drums complete with gating, EQ, reverb, and radio-ready compression


NO CARTAGE FEES
there's no gear to be moved. All recording is done in-house and I provide you with the finished product


NO HIDDEN COSTS
all pricing is fully disclosed up-front


NO SCHEDULING HASSLES
no travel required! All recording and production is performed at my on-site facility


100% PROFESSIONAL ATTITUDE
friendly, positive, and motivated to make your music sound its best!


AFFORDABLE RATES
most competitive rates. Contact me and tell me about your music


SUPPORT for UNSIGNED ARTISTS
to help support the arts, a limited number of unsigned artists may qualify for subsidized session rates. Find out more


SECURE & PROTECTED TRANSACTIONS
PayPal accepted. Good ole money orders and checks also accepted


DISCOUNTS AVAILABLE
for multiple songs and referrals. Whole album discount rates also available







---
You owe it to your music to have the best possible drum tracks custom-tailored for it.

Put an end to lifeless & artificial drum tracks and GET REAL DRUMS recorded just for you and your music. Imagine what your friends and fellow musicians will think.

CONTACT ME for a FREE NO-OBLIGATION QUOTE.
Get real drumming for your music. Youíll hear the difference.

---
---
"Obviously a dedicated drummer...
I was very impressed with his technique."
- Simon Kirke (Bad Company, Free)
---
"I think he sounds great!!!"
- Tommy Aldridge (Whitesnake, Ozzy Osbourne)
---
"Nice playing. Very snappy!"
- Bill Bruford (Yes, Earthworks, King Crimson)
---
"Excellent."
- Jonathan Mover (Fuel, Everlast, GTR, Alice Cooper)
---
"Galichon's single strokes are fast and smooth."
- Joe Morello (Dave Brubeck Quartet)
---
MORE EXAMPLES AVAILABLE HERE
Search terms: sonar, producer, mp3, bfd, bfd2, session drummer, pro, studio drummer, professional studio, pro gear, drummer, drum, drums, drumming, cymbal, cymbals, overdubs, discount, free, cd quality, radio, radio production, engineer, mix, mixing, mastering, services, weckl, dave weckl, peart, neil peart, bonham, john bonham, smith, steve smith, rock, jazz, county, hip hop, hiphop, fusion, classic rock, heavy metal, metal, funk, r&b, latin, pro tools, dvd, jingles, commerical, commercials, voice-overs, voice, studio musician, ludwig, pearl, dw, drum workshop, tama, yamaha, sonor, premier, pacific, gretch, slingerland